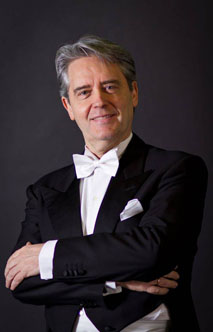 Was born in Valencia, Spain. He studied conducting, musical composition and clarinet at the Valencia, Alicante, Rotterdam and Salzburg Mozarteum Conservatories, and gained an Honours Degree in Conducting with Distinction from the Royal College of Music (LRSM). Additional studies have included attending different courses taught by J. Collado, M. Gielen and A. Cecatto.
Currently, he is Head of the Orchestral Conducting Department at the Conservatorio Superior de Música de Murcia, teacher in Conducting Academy DIESIS and artistic director of MúVyN chamber orchestra.
Rodilla made his debut as a conductor with the Orquesta del Conservatorio de Murcia in 1990, where is the Chief Conductor from 1996, touring in Spain, Hungary and Portugal. In 1991 he received the "Best Conductor Prize" in the Murcia International Youth Orchestra Festival. He has recently received the "2020 Jaume I Prize" awarded by the Llíria City Council "City of music".
In 1993, he formed the Concertus Novo Chamber Orchestra, realizing his ambition of creating an ensemble to perform contemporary music. There followed numerous engagements with the most prestigious contemporary music festivals. Some of those performances were featured in live radio broadcasts by RNE.
From 1996 to 2012 he assumed the position of Principal Conductor of the Orquesta Sinfónica de la Región de Murcia. He has conducted a wide range of repertoire, from early music to modern works, and has performed with numerous international soloists.
As a guest conductor, he has appeared with major orchestras including the Prague Radio Symphony Orchestra, Israel Symphony, Sinfónica de RTVE, Comunidad de Madrid, Orquesta de Valencia,  Sinfónica del Principado de Asturias, Orquesta de Extremadura, Gangeung Philharmonic (Corea del Sur), Toronto Philarmonia, Filarmónica de Buenos Aires, Istambul State Symphony, Rousse State Opera, Sofia Philharmonic, Baden-Baden Philarmonie, Beijing Symphony, Sinfónica Municipal de Caracas,  Bucarest National Radio, Hradec Kralove Philarmonie, Bohuslav Martinu Philharmonic, Moravian Philarmonic Olomouc, North Czech Philarmonic, Karlovy Vary Symphony, Sinfónica de Aachen, Szeged Symphony, Bilkent Symphony en Ankara, Xiamen Philarmonic, Lomza Chamber Philharmonic, Arthur Rubinstein Philharmonic Lodz,  Filharmonia Czestochowa, Poznan Music Academy, Sinfónica de Monterrey, Filarmónica de Jalisco, Sinfónica de Santa Fe, Orquestra Camerata XXI "Ciutat de Reus",  FVG Mitteleuropa Orchestra Udine, Orquesta de Cámara "Milano Classica", Orchestra da Camera Fiorentina, Sinfonica di Sanremo, Lake Como Philharmoniker, Sinfonica di Bari, Sinfonica di la provincia di Lecco, Nacional do Porto, Metropolitana de Lisboa, Orquestra de Camera Cascais e Oeiras, Orquestra do Algarve, Kuzbass Symphony in Kemerovo, Sinfónica Nacional de Paraguay,  Orquesta de Cámara del Auditorio de Zaragoza-Grupo Enigma, Sinfónica de Castilla y León, Orchestre Bayonne, Sinfónica de la Radio de Bratislava y Orquesta Ciudad de Málaga.
Maestro Rodilla has been invited to conduct at such prestigious events as "Cesky Krumlov Festival" in Czech Republic, "Ravelo Festival" in Italy, "Festival Internacional del Teatro Teresa Carreño de Caracas" in Venezuela, "Alicante International Contemporary Music Festival" in Spain. He takes part as a  jury member of severals International Music Competitons (Interpretation, Piano, Orchestra conducting, etc.)
Soloists who have performed under Rodilla's baton include Joaquín Achúcarro, Sol Gabetta, Steven Isserlis, Pierre Amoyal, Konstanty Andrzej Kulka, Tedi Papavrami,  Stefan Dohr, Wolfgang Emanuel Schmidt, Javier Perianes, Iván Martín, Ludmil Angelov, Pepe Romero, Los Romero quartet, Asier Polo, Leonel Morales, Jan Simon, Michel Camilo, Guy Touvron, and singers like Ana Mª Sánchez, Ainhoa Arteta, Elisabete Matos, Mª José Montiel, etc…
His operatic and zarzuela repertorie have encompassed scores such as Carmen, Norma, La Traviata, Lucia di Lammemoor, L'elisir d'amore, Cavalleria Rusticana, Pagliacci, Marina, la Tempestad, La Tabernera del Puerto, Gigantes y cabezudos, La viejecita, La revoltosa, Luisa Fernanda and El relámpago.
Highlights of Mr. Rodilla's appearances as a guest conductor during next season include performances in Spain, USA, Czech Republic, Italy and Poland.